Texas Pecans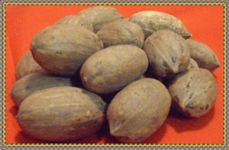 Texas In-shell and Cracked Pecans

Thickness of shell
Thin shell
From
North Central Texas
Size
Large
Count per pound
(smaller count equals larger pecan)
60
Taste**
Very Good

5 pound sack
note: Comes in
attractive burlap sack

In-Shell Pecans
$22.50
($4.50 per lb)

Cracked Pecans
$25.00
($5.00 per lb)

You will be redirected to our corporate website, GILBERTPECAN.COM

In-Shell Pecans
$44.50
($4.45 per lb)

Cracked Pecans
$49.50
($4.95 per lb)

You will be redirected to our corporate website, GILBERTPECAN.COM

In-Shell Pecans
$110.00
($4.40 per lb)

Cracked Pecans
$122.50
($4.90 per lb)

Call Gilbert Pecan 888-769-4501 to order 50 pound qty

In-Shell Pecans
$205.00
($2.05 per lb)

Cracked Pecans
$230.00
($4.60 per lb)

Call Gilbert Pecan 888-769-4501 to order 100 pound qty

In-Shell Pecans
$400.00
($4.00 per lb)

Cracked Pecans
$455.00
(4.55 per lb)
Note to residents of Arizona, California, Eddy and Chaves Counties of New Mexico, and the counties of El Paso, Hudspeth, Culberson, Jeff Davis, and Presidio in Texas: State laws prohibit the shipment of in-shell pecans into these areas from outside these areas. We CAN ship shelled pecans into these areas, just not in-shell pecans.
Satisfaction guaranteed, or your money back. Click here for the details of our satisfaction guarantee.
** The taste rating is based upon our personal opinions.
Check out more products at GilbertPecan.com
Please Call 888.769.4501 for Wholesale Pricing